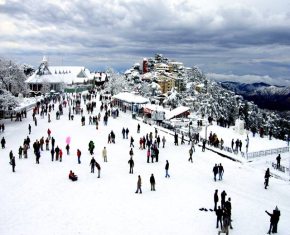 Updated On November 19, 2017
Home to the famous author, Khushwant Singh, Kasauli is a little hill station located en route to Shimla via Delhi. As you drive towards the tranquil hill station, the roads lined up with chestnut trees will fill your heart with joy. The sweet chirping of birds will take all your worries away and you will soak yourself in the amazing views offered by the surroundings. Listed below are some things which you can enjoy while your stay in Kasauli.
1. Get some breathtaking views of the Sutlej River from the Monkey Point. Do pay a visit to the small Hanuman Temple when you are at Money Point.
2. If you are a trekking lover, then do indulge in some great trekking experience and enjoy the mesmerizing vistas along the trekking trails. Opt for the 9 km. long trekking route from Kasauli to Jabli.

3. Explore the beauty of town by indulging in some nature walks that take you through some narrow roads along the lush green forests of pine and deodar. Enjoy the chirping of birds and cool breeze of air that refreshes your mind, body and soul.

4. Surround yourself with clouds at the Lover's Lane.

5. Buy some local knick knacks and handicraft items as souvenirs from the Mall Road. Getting the woolen shawls from the Tibetan market is a great idea. You can also get some bottles of locally produced wines.

6. Enjoy a bonfire at one of the night camps in Dagshai, around 12 km. from Kasauli. Dagshai also offers its tourists some adventure activities like paragliding.

7. Do not forget to attend the Solan Fair if you are in Kasauli during June. Hundreds of tourists from all over the country specially plan their visit during this timeframe to be part of this significant festival. Another common festival celebrated during this timeframe is the Sari Festival which is attended by lots of localities to watch the famous bull fight.

8. Pay a visit to the hundred year's old Lawrence school which is located in Sanawar, 6 km. from Kasauli.
For more details about things and activities to do in Kasauli, you can visit the website of 'serenekasauli.com' which is an excellent website providing you all the essential details. You can also go through their forums section to know about the famous restaurants and places to visit.