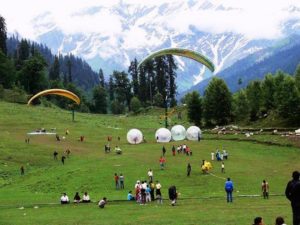 The hamlet of Kasauli, situated around 1900 meters above the sea level, is a small cantonment town in the Solan district of the Indian state of Himachal Pradesh.
The Himalayan range in the northern India has numerous hill stations scattered all around. Yet, Kasauli retains a unique charm.
So, what makes Kasauli different from other hill stations?
Kasauli holds an old world charm which has been imbued into it since the british colonial era. Home to the world's oldest brewery and distillery – Kasauli Brewery established byEdward Abraham Dyer, in the late 1820s, it intrigues the tourists with its tranquility and rich heritage.
Apart from the snow apped mountains,meandering hills and the cobbled streets of the city, its Gothic architecture grabs the attention of each passer -by.
One of the greatest attractions of Kasauli are its magnificent churches – Baptist and Christ Church with its Victorian styled stained glasses. The famous Monkey Point whose significance dates back to the ancient era and the picturesque Jagjit Nagar, which is becoming a favorite as a summer home to various politicians, bureaucrats and Bollywood stars have further contributed in increasing its popularity amongst people belonging to different stratas of the society.