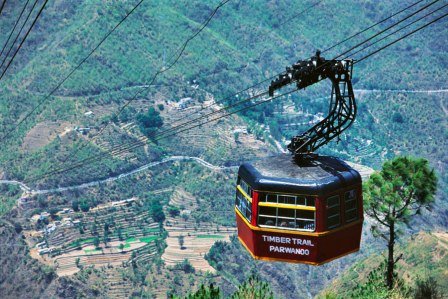 Updated On November 19, 2017
British once ruled many countries in the world and have left their foot prints in the countries they ruled. Some countries still preserve their architecture and culture while some countries have moved on. One such country which has preserved the architecture, culture left by the British is India. India has many hill stations which are developed by the British either for their official work purpose or for holidaying. These hill stations have become tourist attractions in the recent years and India is saving the architectural constructions built more than a hundred years ago. And Kasauli is one such hill station developed by the British more than a hundred years ago as their cantonment. The hill station is situated at an altitude of 1,800 meters and is a beautiful place to visit especially in winters. Also the famous Indo-British author Ruskin Bond was born in a British hospital in Kasauli. British official Henry Lawrence was the first person to discover Kasauli and started Lawrence School at Sanawar in 1842. The inhabitants started coming due to this and later became a cantonment for the British.
Kasauli still preserves many of the building constructed during the British regime and they still stand tall as a symbol of architectural perfectness. The Baptist church, Central Research Institute, Lawrence School Sanawar are few examples of the constructions built more than a hundred years ago and are going strong even now. The Victorian architecture is clearly visible in the buildings at Kasauli. The Christ Church and Baptist Church are the perfect examples of Gothic style of architecture. The Kasauli Baptist Church constructed in 1923 is built with brick and wood and got slightly destroyed in the fire occurred in 2008. Christ Church built in 1853 which was previously known as Anglican Church has Spanish and Italian imported stained glass windows which are very beautiful. The Central Research Institute (CRI) established in 1904 works as a research institute and worked on the areas of fields of immunology and virological research. Currently the institute is working as a Collaborating Centre for World Health Organization (WHO). The Kasauli club established in 1880 and was later used by the British to have social meetings and dance parties. The club was built in wood and plaster in typical hill architecture.
The town has a Mall or a ceremonial route as other towns developed by the British. Kasauli has two malls the Upper mall and the Lower Mall and the intersection point of these two routes is a busiest place in the town. Kasauli is also the home for the oldest Scotch whisky distillery in Asia.