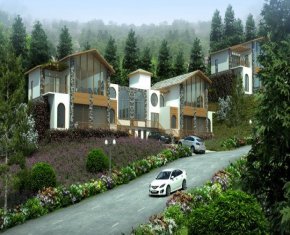 Updated On November 19, 2017
Summers are here and everyone living out in Northern India must be looking out for a tranquil place to spend few days away from the scorching heat. If you want to spend some quiet days in the lap of Mother Nature, then Kasauli can be considered as a good option for your summer vacations. The beauty and serenity of this place is such that it will make you forget all your worries and you would want to spend some extra days here soaking yourself in the greenery all around.
Once the most preferred summer destinations for Britishers, Kasauli is a small cantonment town located on the way to Shimla from Delhi. The zig-zag and narrow hillside roads leading to Kasauli offer some great vistas. Once, you are in the town, it welcomes you with a pleasant weather and cool breeze of air. Though Kasauli is a small hill station, you can spend a day seeing some of its beautiful tourist attractions like the Monkey Point where you can also visit a small temple dedicated to lord Hanuman. If you are interested in seeing some colonial architecture, then the Christ and Baptist churches are the best tourist attractions to visit. These churches are built in Indian and Gothic styles of architecture and visiting them would truly be a delightful experience. Kasauli is also home to Shri Baba Balak Nath temple, which is one of the most visited pilgrim center in Himachal Pradesh. The temple is mostly visited by childless people who come here in a hope to get their wish for a child fulfilled.
If you are a shopping freak, then Mall Road is the place which should not be given a miss. It is one place where you can spend your time buying souvenirs and enjoying a sip of hot coffee with some mouth watering snacks.
Kasauli is also a paradise for adventure buffs who love trekking and hiking. The trekking trails in Kasauli offer some of the great panoramic views of the surroundings. Apart from trekking you can also enjoy long walks and appreciate the beauty of Kasauli.
If you are looking forward to a visit to Kasauli and want to get the arrangements like hotel accommodations, cars and taxi arrangements, sightseeing booking etc. then you must visit the website of 'serenekasauli.com' which gives ample details to tourists about accommodation facilities, places to see, organizes for their sightseeing and adventure tours. You can also go through their forums section which enlists reviews about Kasauli by various other tourists.